Whoopsie-Doopsie Comedy Play
Sunday, April 22nd at 1:30pm-3pm
Zombie Joe's Underground Theater Group
Come watch a comedy play featuring one of our own Returned Peace Corps Volunteer friends, Camille Aragon! Billy Harrington is popular, smart, good-looking, and captain of his Huckle-Buckle team. Billy's world is turned upside-down when he finds out his sweet girlfriend Joannie is pregnant! Whoopsie-Doopsie!
To reserve $15 tickets (open seating), purchase tickets for
4/22 at 2pm
at
ZombieJoes.Tix.com
and RSVP on the RPCVLA website. We'll meet at
1:30pm
in front of the theater to sit together - look for RPCVLA Board Member Krystina Nguyen.
Address:
4850 Lannkershim Blvd., North Hollywood
Metered and street parking available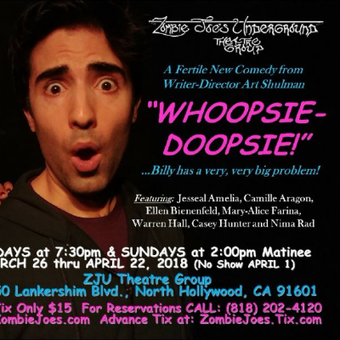 4850 Lankershim Blvd, North Hollywood, CA 91601, USA