The Annual International Dinner is Almost Here!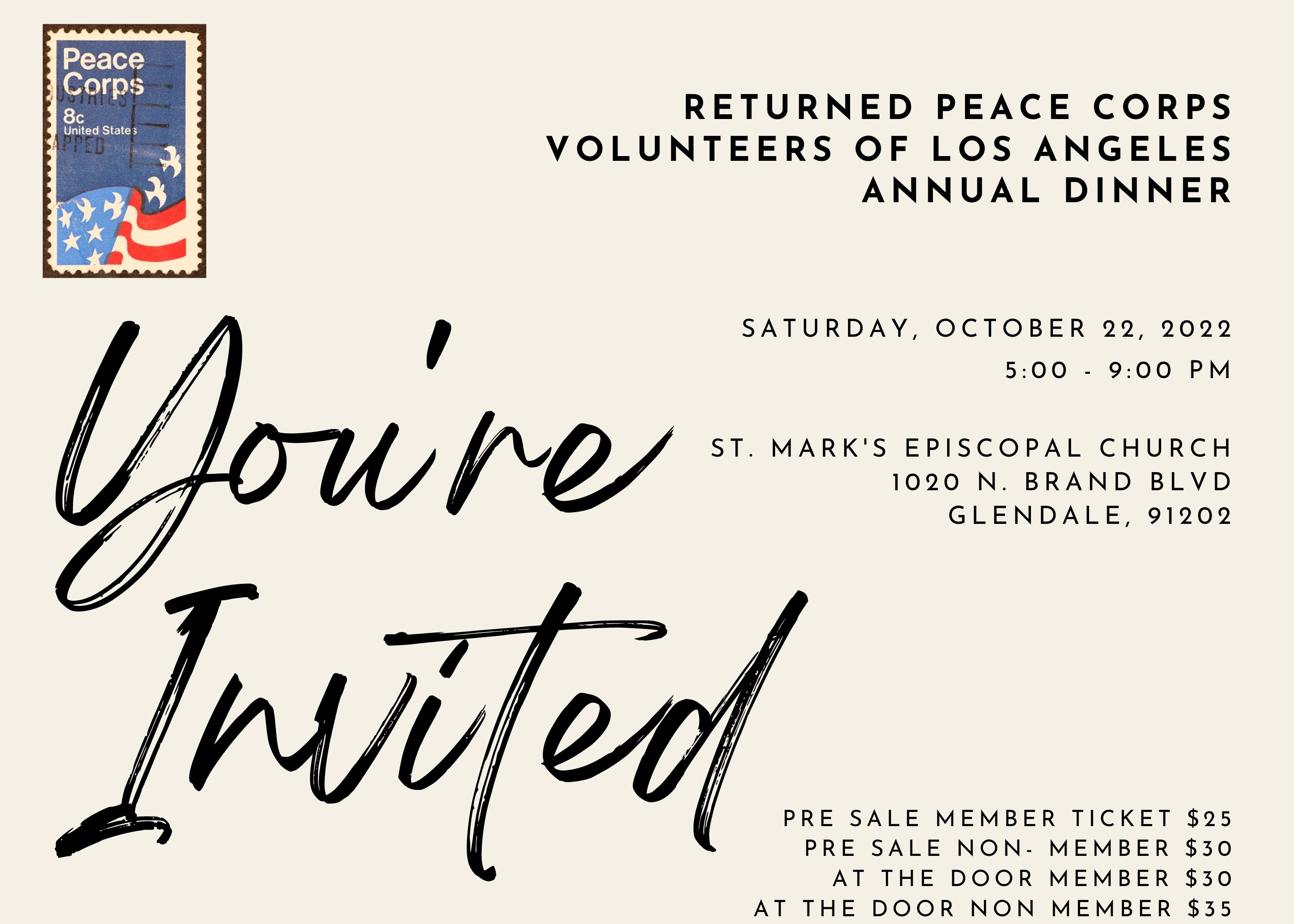 Each year RPCVLA hosts an evening of celebration of our local Peace Corps family featuring international food , networking and fun.
EVENT DETAILS:
Leave the cooking to us this year - A delicious fully catered Indian dinner is included with your ticket.
Miss the potluck? Bring a dessert from your country of service to share! We are excited to see what you bring.
Do you have a traditional outfit or service t-shirt from you country of service? Time to bust it out and flaunt it!
The 2022 Local Hero Award Recipients are the Founders of Stand With Ukraine!
There will also be lots of great silent auction items to bid on and entertainment too!
TICKETS:
We encourage you to purchase your tickets early as attendance is limited.
Presale tickets available now! Please log-in to access Member-only prices!
Presale
Presale RPCVLA Member Tickets (Paid Member levels only) - $25
Presale RPCVLA Friends & Family and non-RPCVLA - $30
Presale ticket sales now open thru 10/21
At the Door
RPCVLA Member Tickets (Paid Member Levels only) - $30
Friends & Family and non-RPCVLA - $35
Kids 5-16 - $5
Kids under 5 - Free
Not an RPCVLA Member? Join here!
Unable to Attend? If you are unable to attend but would still like to make a donation, please click to donate here!
All proceeds benefit the Yamanaka Fund - our local grant program that financially supports projects of currently serving PCVs and the local RPCVLA community.
CALL FOR VOLUNTEERS:
We still need volunteers willing to sign up for short shifts to help the day of the event. In particular, we are looking for people to help with set-up before the event and clean-up at the end of the event. We are also seeking an event photographer.
Can you help? Please e-mail President, Timothy Schilling, Jr. at tschillingjr@gmail.com to get involved!
2023 INTERNATIONAL CALENDARS:
Order Your 2023 RPCV International Calendar Today!
Since 1988, the International Calendar has celebrated the peoples and countries served by Peace Corps. The 2023 International Calendar shines a light on 13 of the 142 countries that have been served by Peace Corps since 1961: Nepal, Ghana, China, Armenia, Haiti, Dominican Republic, Tanzania, Bolivia, Ukraine, Cambodia, Ethiopia, and Iran, and Myanmar. Don't forget - this is the only calendar where EVERY DAY is a holiday!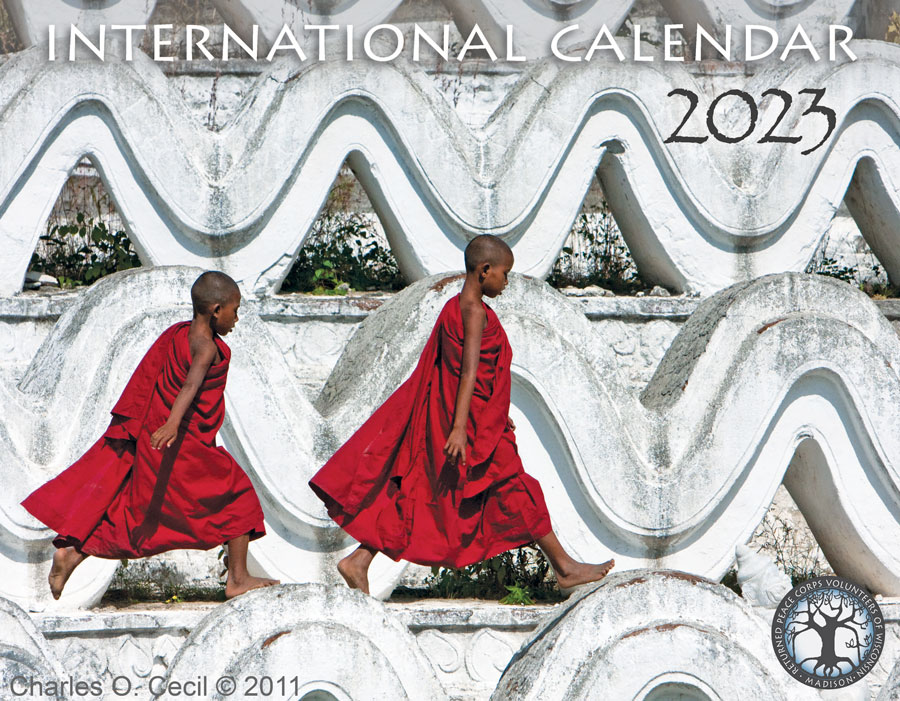 Calendars can be ordered for $15 (+ shipping) directly from https://www.rpcvcalendar.org/shop/. Use RPCVLA's unique discount COUPON code: PC4RPCVLA to receive $1 off your total order. Your calendar and note card purchases also benefit RPCVLA's Yamanaka Fund. When you use our discount code, 40% of the cost of your order (before shipping & taxes) will be sent to RPCVLA to benefit the Yamanaka Fund! It's the gift that keeps on giving!
LOCATION:
St. Mark's Episcopal Church in Glendale on Brand right off the 5 FWY.
Lot's of free parking available in the lot behind the church, on the street in front of and on side of church and in the overflow lot at the bank next door.
Questions? Please email info@RPCVLA.org
We look forward to seeing you at the dinner!
1020 N Brand Blvd, Glendale, CA 91202, USA